Prior to the meeting, optional full-day guided tours for wine-tasting in the Barossa Valley and McLaren Vale wine country regions will be available on Sun 28 Nov, departing from downtown Adelaide.
Places to visit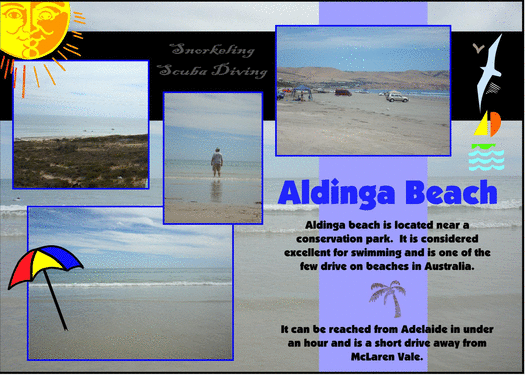 Photos in Slide Show courtesy of Sue Flynn (Tucson, Arizona)
Wine tasting in the Barossa, McLaren Vale, Adelaide Hills
Group tours offered by accredited operators, half day and full day ($50-100 range). The following are examples (these operators are not affiliated with or endorsed by the meeting organisers or AuPS/ASB societies):
What's On In Adelaide?
Events to consider if you can stay a few extra days around the AuPS/ASB Adelaide meeting

Adelaide events calendar for 25 Nov- 4 Dec
2010 Adelaide International Guitar Festival 25 – 28 November
Sir James Galway, classical, contemporary and Irish repertoire. 01 December 2010
Garry Stewart & Australian Dance Theatre 09 September 2010 - 30 November 2010
Adelaide Symphony Orchestra
Concert for the Earth
 Saturday 27 November, 8pm; Adelaide Town Hall Arvo Volmer: Conductor
The Four Seasons Friday 3 December, 8pm; Saturday 4 December, 6:30pm; Adelaide Town Hall James Ehnes: Conductor and violin Beethoven: Romances 1 and 2, Opp. 40 and 50; Elgar: Serenade for Strings
; Vivaldi: The Four Seasons